(External) 2020 Economic Outlook
Register Now!
Or paste this link in your browser's address bar: https://www.asianchamberkc.com/2020-economic/
Gain insights into trends impacting the current economic environment such as interest rate, trade, politics, housing, and stock markets, and obtain information to help make effective planning and investment decisions for you and your business.
Presented by UMB Investment Management: KC Mathews, EVP, Chief Investment Officer and Eric Kelley, EVP, Director Investment Research.
Attendees will enjoy hot buffet lunch.
Members of Asian American Chamber of Commerce KC: FREE
Non-members: $20
WHEN
Tuesday, February 25, 2020
11:30 a.m. – 1:30 p.m.
WHERE
UMB Bank
1010 Grand Blvd. Kansas City, MO 64016
Directions to 1010 Grand and Parking Instructions
Registration is required for all attendees.
Please RSVP by February 18.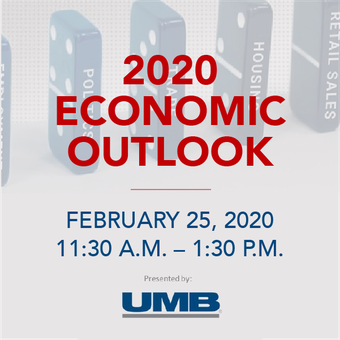 1010 Grand Blvd. Kansas City, MO 64016