Brunch with NAAAP-KC
Brunch with NAAAP-KC
Whether you are a new or seasoned member, there's always an opportunity for a little get together.
Come join us for brunch next Saturday, March 23. We will share with you some exciting updates about our chapter, particularly the upcoming Leadership Convention where the Kansas City chapter will be the host!
If you've been thinking about becoming a member, this is a great opportunity for you to come spend a little time with us. We can answer any questions you might have.
It's super casual. Come brunch with us!
Date: March 23, 2019 (Saturday)
Time: 10am - 12pm
Venue: Le Peep Restaurant Lenexa, 7936 Quivira Rd, Lenexa,KS 66215.
Menu: https://lepeep.com/menu/
Your registration will help us make plans with the restaurant.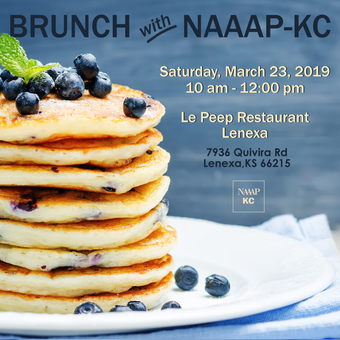 7936 Quivira Rd, Lenexa, KS 66215, USA