Exclusive ERG Event: Belonging and Becoming
Belonging & Becoming: An ERG Fireside Chat
with David Minh Moore & Hoang-Anh Tran

Join us on September 27 for an exclusive ERG/BRG-only fireside chat featuring Hoang-Anh Tran, NAAAP-KC Senior Advisor & David Moore, former chair of Hallmark's Asian American ERG, a founding member of NAAAP Pride, and current marketing director on the board of NAAAP-KC. Come listen as they discuss David's personal journey from being a Vietnamese immigrant to a U.S. soldier to a creative designer. Find out how participation in an employee resource group at his workplace provided the space of belonging that catapulted David to the creative heights of KC's Fashion Week.
Space is limited and Registration is required.
Participation/interest in Employee Resource/Business Groups recommended but not required to attend. All are welcome.
(This will be a hybrid event and a Zoom link will be provided for those who wish to attend virtually.)

NAAAP-KC x Employee Resource/Business Groups
NAAAP's mission is to provide a network of resources for the ongoing development of AAPIDA (Asian American Pacific Islander Desi American) professionals. To strengthen and grow our AAPIDA communities in the KC metro, NAAAP-KC believes we need to invest in our people in concrete ways that enable individuals to unlock, discover and cultivate the power of their unique identity narratives (their skills talents, and unique stories that make them who they are) and to use their voices to carve spaces for empowerment and liberation. To achieve that goal, we seek strategic partnerships with community organizations and corporate ERGs & BRGs that share our vision of building a sustainable, equitable, and racially just KC metro.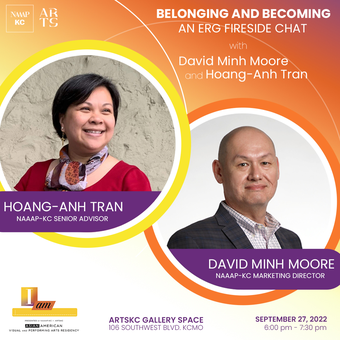 ArtsKC Gallery Space 106 Southwest Blvd, Kansas City, MO 64108, USA