"I Am..." Asian American Visual & Performing Arts Residency | May - September 2022

The National Association of Asian American Professionals - Kansas City (NAAAP-KC), in partnership with ArtsKC, is pleased to
announce a five month interdisciplinary arts and professional development residency at the ArtsKC Gallery space in downtown Kansas City from May to September 2022. This residency is a reclamation of identity and strength by allowing AAPIDA (Asian
American Pacific Islander Desi American) artists and thought leaders to declare themselves with the statement of "I Am..."
More info here.
More info on the artists featured in August/September: here
First Friday at ArtsKC Gallery Space - August 5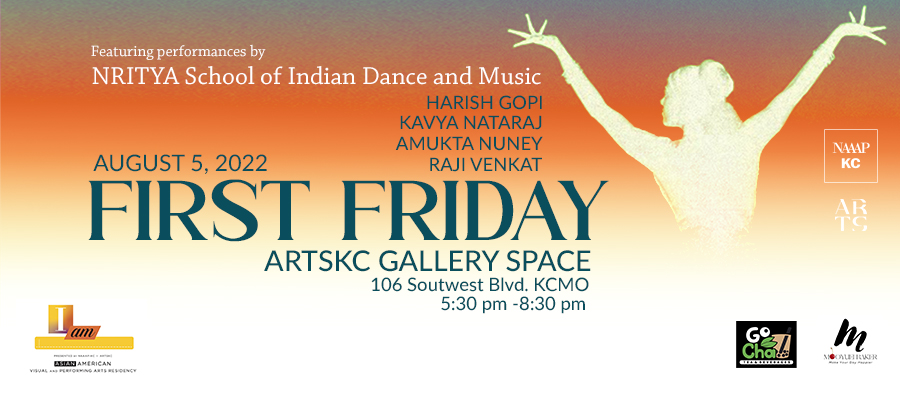 JOIN US at the Artskc Gallery in the Crossroads on First Friday, August 5 as we continue the NAAAP-KC + Artskc 5-month residency celebrating Asian visual and performing arts! We'll have live entertainment from NRITYA School of Indian Dance and Music, drinks from Go Cha Teas & Beverages, and delicious sweet treats crafted by Mooyueibaker.

About the Exhibition:
The National Association of Asian American Professionals-Kansas City in partnership with ArtsKC presents an exclusive residency at the ArtsKC Gallery Space from May - September, 2022. This residency is a reclamation of identity and strength by allowing AAPIDA (Asian American Pacific Islander Desi American) artists and thought leaders to declare themselves with the statement of "I Am..."
More info: here
More info on the featured artists: here
Second Saturday Salon Night - Saturday, August 13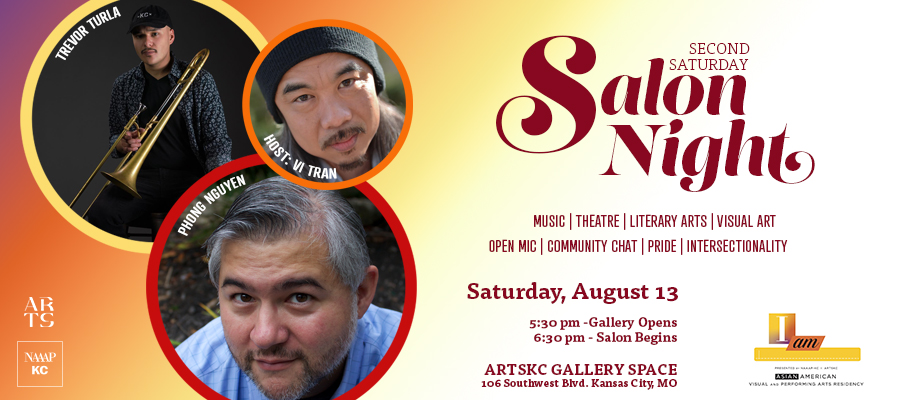 NAAAP-KC's 5-month residency with ArtsKC is excited to announce Second Saturday Salon Nights! These monthly events will feature a diverse variety of music, theater, literary arts, open mics, and community chats featuring local Asian Pacific Islander Desi Americans.
On Saturday, August 13, 2022, Vi Tran, Host/Curator, will host Phong Nguyen and Trevor Turla.
More info: here
Subscribe to our Newsletters
NAAAP Pride
We proudly support NAAAP Pride, a new program for the Asian American LGBTQ+ community. Our leadership team believes in equality and value a diverse, inclusive, and safe environment for all. We encourage you to learn more about NAAAP Pride.