"I Am..." Asian American Visual & Performing Arts Residency | May - September 2022

The National Association of Asian American Professionals - Kansas City (NAAAP-KC), in partnership with ArtsKC, is pleased to
announce a five month interdisciplinary arts and professional development residency at the ArtsKC Gallery space in downtown Kansas City from May to September 2022. This residency is a reclamation of identity and strength by allowing AAPIDA (Asian
American Pacific Islander Desi American) artists and thought leaders to declare themselves with the statement of "I Am..."
More info here.
More info on the artists featured in August/September: here
Volunteers Needed to work NAAAP-KC Booth at Japan Festival - October 8

The 2022 Greater Kansas City Japan Festival will be returning in person on Saturday, October 8th, 10 am - 7 pm. It will be held at the Midwest Trust Center at Johnson County Community College. The Festival showcases the traditional culture, pop culture, food and art of Japan, along with the vision, technology, and hopes for the future shared by the people of Japan and the people of the Kansas City area.
Look forward to traditional Japanese musical performances, Japanese candy artist, traditional Japanese food, traditional Japanese snacks and sweets, bazaar shopping extravaganza, exhibits, Japanese cultural village for kids, martial arts, anime & manga, workshops, demonstrations, and cultural presentations.

 
Volunteers Needed to Work the NAAAP-KC Booth:
We are looking for a few NAAAP-KC volunteers to work our booth at the Greater Kansas City Japan Festival. We have 3 shifts and need 2 people per shift. We prefer to have one NAAAP-KC Board member and one NAAAP-KC member for each shift. Volunteers working the NAAP-KC Booth will receive 1 free ticket to the festival.
More info & Sign up to volunteer at the NAAAP-KC Booth here.
Belonging & Becoming: An ERG Fireside Chat - Tuesday, September 27

Belonging & Becoming: An ERG Fireside Chat
with David Minh Moore & Hoang-Anh Tran
 
Join us on September 27 for an exclusive ERG/BRG fireside chat featuring Hoang-Anh Tran, NAAAP-KC Senior Advisor & David Moore, former chair of Hallmark's Asian American ERG, a founding member of NAAAP Pride, and current marketing director on the board of NAAAP-KC. Come listen as they discuss David's personal journey from being a Vietnamese immigrant to a U.S. soldier to a creative designer. Find out how participation in an employee resource group at his workplace provided the space of belonging that catapulted David to the creative heights of KC's Fashion Week. 
Space is limited and Registration is required.
I am... A Celebration - Thursday, September 29

Save the date of Thursday, September 29 for a Happy Hour Celebration!
Join us as we close out this incredible five-month residency and celebrate the artists, volunteers, and leaders that made it all possible. We will also be celebrating NAAAP-KC's 12th anniversary and our amazing members, leaders, and sponsors. If you have been associated with NAAAP-KC in the past 12 years, please consider joining us. This will be the final opportunity to view the "I am..." exhibition. The event is free and all are welcome. We look forward to connecting with all our members, past and present. 
Come celebrate, connect & mingle.
Featuring Live Painting Event with Silent Auction to Support the Artists
Live painting is a form of visual performance art in which artists complete a visual art piece during a public gathering.
 
Enjoy authentic Filipino Cuisine from Manila Bay Express



WIN! (Women in NAAAP-KC) Book Club Discussion - Wednesday, October 5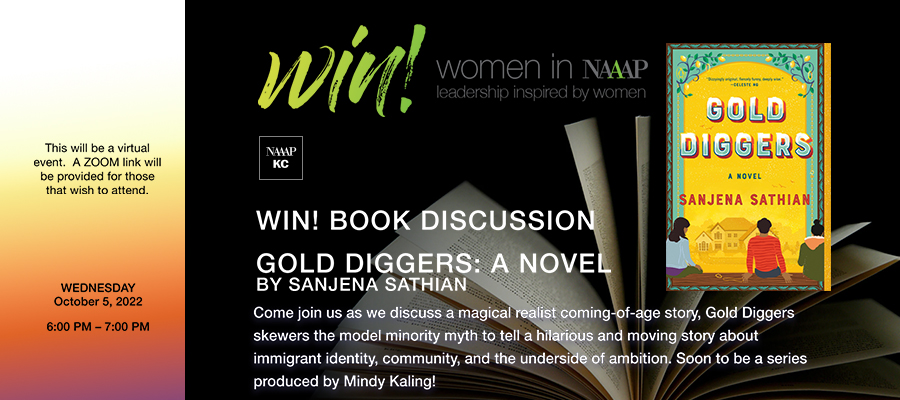 Our latest WIN! (Women in NAAAP-KC) Book Club selection is Gold Diggers: A Novel by Sanjena Sathian. How far would you go for a piece of the American dream? A magical realist coming-of-age story, Gold Diggers skewers the model minority myth to tell a hilarious and moving story about immigrant identity, community, and the underside of ambition.
All are welcome to join in on the discussion. 
This will be a virtual event. A ZOOM link will be provided for those that wish to attend.
More info: here
Upcoming Events
8 OCT 2022 · 10:00 AM

in

12345 College Blvd, Overland Park, KS 66210, USA
Subscribe to our Newsletters
NAAAP Pride
We proudly support NAAAP Pride, a new program for the Asian American LGBTQ+ community. Our leadership team believes in equality and value a diverse, inclusive, and safe environment for all. We encourage you to learn more about NAAAP Pride.