Permission Parties: A Joyous Celebration of Uniqueness, Self-expression, and the Transformative Power of Claiming Space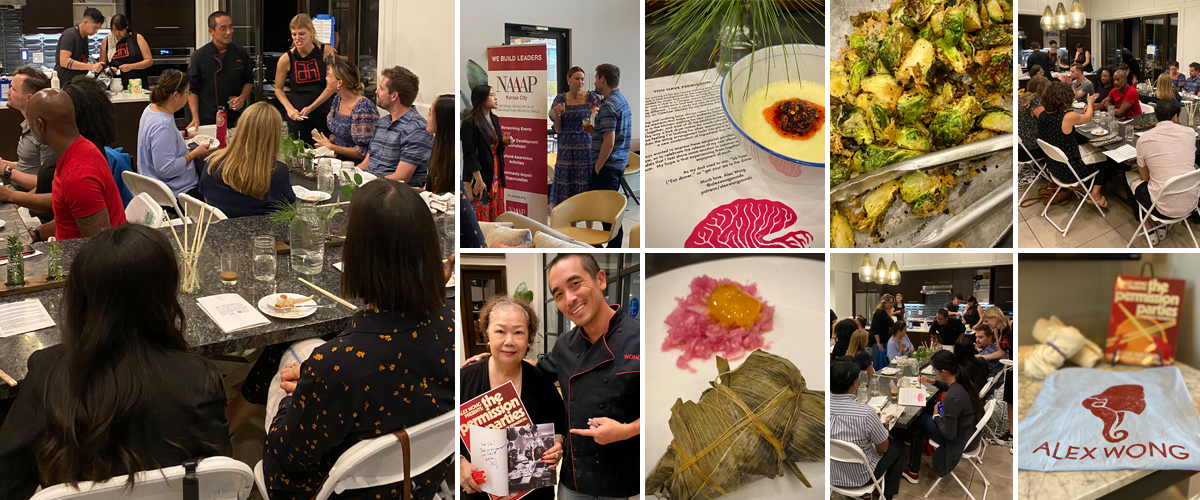 The Permission Parties was indeed an extraordinary event that far surpassed all expectations. From the moment attendees entered the venue, they were embraced by an inviting and warm atmosphere that cultivated a deep sense of community. Alex Wong, a remarkably talented musician, songwriter, and chef, was the perfect host. His unwavering passion for his craft shone through every element of the evening.
Inspired by family recipes, the exquisite multi-course dinner was spectacular. Each dish was meticulously created to evoke the emotions conveyed in each track from Alex's latest album, "Permission." The food not only delighted the taste buds but also acted as a conduit to experience the music on an entirely new level. However, what truly made the evening extraordinary was the genuine sense of connection that enveloped us all. As everyone savored each delectable dish and immersed themselves in Alex's personal stories and music, they freely shared their own narratives and experiences.
The Permission Parties was far more than a mere event; it was a joyous celebration of uniqueness, self-expression, and the transformative power of everyone claiming permission to authenticate themselves. This remarkable night will forever be cherished for its warmth, mouthwatering cuisine, captivating music, and its profound sense of togetherness. 
1st ANNUAL NAAAP-KC POTLUCK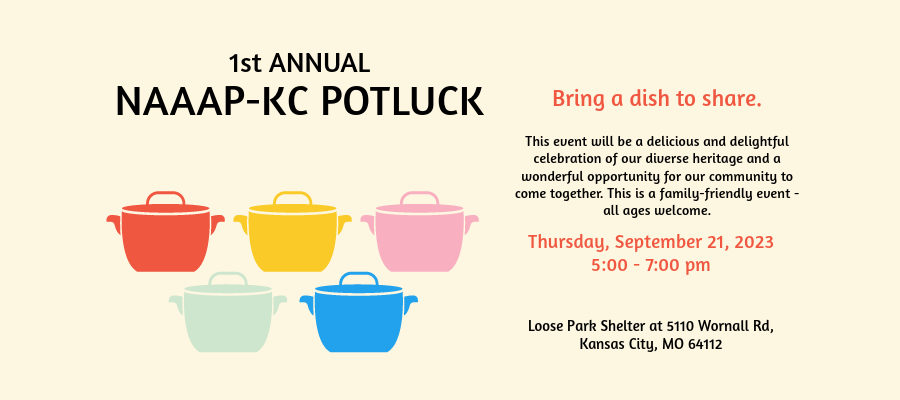 Thursday, September 21, 2023, 5:00 - 7:00 pm
Loose Park Shelter at 5110 Wornall Rd,
Kansas City, MO 64112
Join us for the 1st annual NAAAP-KC potluck! On Thursday, September 21, 5:00-7:00 pm we'll gather at the Loose Park Shelter at 5110 Wornall Road. Bring a dish to share with fellow attendees. Whether you have a beloved family recipe, a favorite takeout dish, or simply an appetite for delicious cultural cuisines, we welcome all to partake in the festivities. Come connect at this cultural exchange as we enjoy a feast of flavors. This event will be a delicious and delightful celebration of our diverse heritage and a wonderful opportunity for our community to come together. This is a family-friendly event - all ages are welcome.
The Greater Kansas City Japan Festival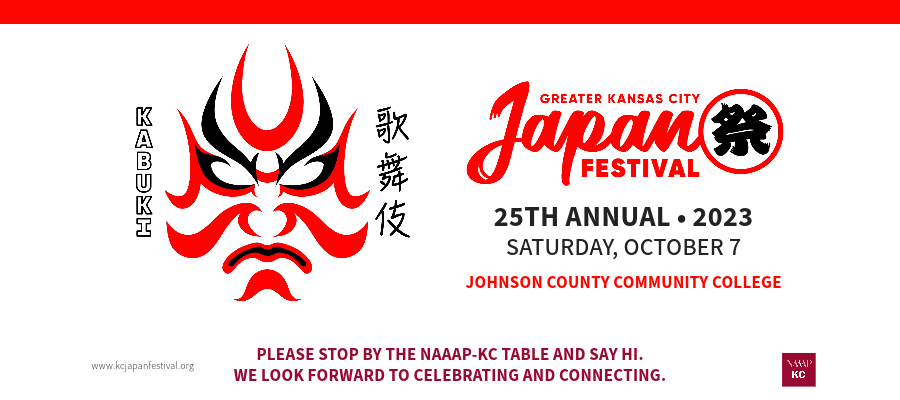 The Japan Festival is presented by the Heart of America Japan-America Society. Since 1962, the Heart of America Japan-America Society (HAJAS) has made it their mission, "To further the understanding between the peoples of Japan and the Greater Kansas City area by promoting social, cultural, and educational exchanges."
The Festival showcases the traditional culture, pop culture, food and art of Japan, along with the vision, technology, and hopes for the future shared by the people of Japan and the people of the Kansas City area. It features Japanese musical performances, traditional Japanese foods, a Japanese candy artist, Japanese snacks and sweets, a Bazaar shopping extravaganza, exhibits of Japanese cultural village for kids, martial arts, anime & manga, workshops, demonstrations, cultural presentations, and more!
 
PLEASE STOP BY THE NAAAP-KC TABLE AND SAY HI.
WE LOOK FORWARD TO CELEBRATING AND CONNECTING.
JoCo PRIDE IN THE PARK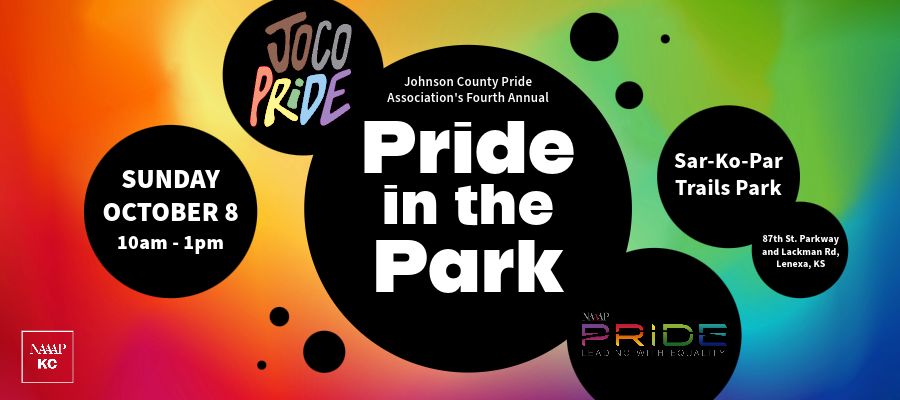 Johnson County Pride Association's Fourth Annual
October 8, 2023 | 10am - 1pm
NAAAP Pride will have a table at this annual event which is a family-friendly opportunity for LGBTQ+ community members, families, and supportive allies to gather together in celebration. Activities, food, and entertainment are all provided at no cost! 
Please stop by and say hi and support the LGBTQ+ community of Johnson County, Kansas!
Yoga with Zen Circle Meditation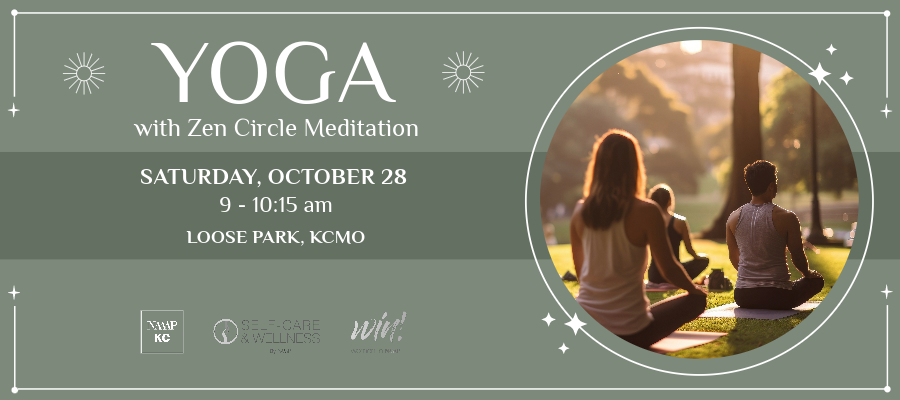 A WIN (Women in NAAAP) + Self-Care and Wellness Collaboration
Instructor: Henna A Fuller 
Owner of NKCYOGA & CULTURAL WANDERER
Loose Park Shelter at 5110 Wornall Rd, Kansas City, MO 64112

Please join us for a 45 minute, all-levels yoga session with zen circle meditation, followed by a walk and a 3 minute savasana to close the class.
We will meet at the Loose Park shelter and walk from there to a flat area for the class.
Please bring a yoga mat and dress comfortably. Water is optional for the nature walk. As a courtesy to others we ask that you leave your phones in your car or turn it off to minimize distractions (we can have photos after).

+ More info & registration here
Subscribe to our Newsletters
NAAAP Pride
We proudly support NAAAP Pride, a new program for the Asian American LGBTQ+ community. Our leadership team believes in equality and value a diverse, inclusive, and safe environment for all. We encourage you to learn more about NAAAP Pride.