1st Annual NAAAP-KC Potluck
Join us for the 1st annual NAAAP-KC potluck! On Thursday, September 21, 5:00-7:00 pm we'll gather at the Loose Park Shelter at 5110 Wornall Road. Bring a dish to share with fellow attendees. Whether you have a beloved family recipe, a favorite takeout dish, or simply an appetite for delicious cultural cuisines, we welcome all to partake in the festivities. Come connect at this cultural exchange as we enjoy a feast of flavors. This event will be a delicious and delightful celebration of our diverse heritage and a wonderful opportunity for our community to come together. This is a family-friendly event - all ages welcome.
Beverages, plates, napkins, and utensils will be provided.
When: Thursday, September 21, 2023, 5:00 - 7:00 pm
Where: Loose Park Shelter at 5110 Wornall Rd, Kansas City, MO 64112
What to bring: a food item to share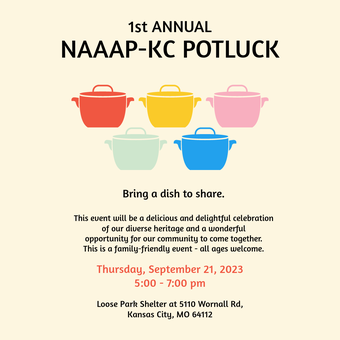 5110 Wornall Rd, Kansas City, MO 64112