NAAAP TV
NAAAPtv
NAAAPtv is a new platform provided by Giant TV (Giant World­wide) that allows our members to grow and develop profession­ally without having to wait for the next in-person convention, symposium, seminar, or off-site retreat. The streaming content focuses on PQ (Personality Quotient), EQ (Emotional Quotient) and LQ (Leadership Quotient), and is available 24/7 using our new NAAAPtv website on desktop or mobile.
Benefits of using NAAAPtv 
When you are exposed to the profound truths on NAAAPtv you will be transforming your think­ing. Virtual training includes sessions to grow mature teams, acquire great communication skills, and tools for conquering goals. When you are learning and growing, you have more energy and enthusiasm for your tasks and are generally happier. Professional development training has always centered around top-level leadership even though most day-to-day decisions are made by others. With NAAAPtv it's now finally possible to help everyone develop professionally.
Enter your te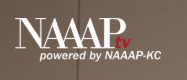 xt here.