(External) 2020 Career Connections: Who's Hiring in Kansas City?
Registration for this event has passed
Hunting for a new job? Meet and explore career opportunities with hiring managers from Kansas City top employers!
Confirmed participating organizations: Cerner, Garmin, UMB, Black & Veatch, Burns & McDonnell, BlueCross BlueShield of Kansas City, City of Kansas City, Missouri, YMCA of Greater KC, Bank of America, Federal Reserve Bank of Kansas City, FBI, and KeyBank.
Corporations are still being added, come back to see who else will be there! Make sure to bring your resume!
FREE for members and non-members but registration is required.
WHEN
Tuesday, March 3, 2020
1:00 – 3:00 p.m.
WHERE
Polsinelli Kansas City
900 W. 48th Place
Kansas City, MO 64112
Registration is required for all attendees.
Please RSVP by February 28.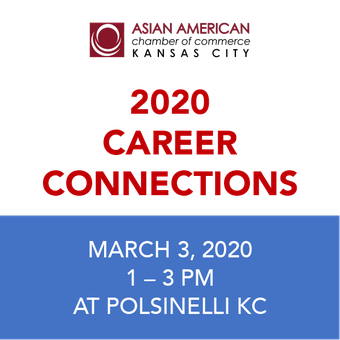 Polsinelli Kansas City 900 W. 48th Place Kansas City, MO 64112