David Moore: Drawn to Fashion & Finding Identity
Event Details
As a child, David spent many hours tracing and drawing pictures inspired by images he saw on greeting cards and in coloring books. He was especially drawn to those of princesses in their spectacular gowns and always wanted to restyle them. David has always been interested in fashion and apparel construction, but growing up in the middle of Missouri in the 80s, there weren't too many spaces for encouragement or opportunity for a young boy wanting to make beautiful dresses, but other creative career options emerged.
At 49, David decided to return to school to study apparel design at Johnson County Community College. 5+ years later, he is close to completing the program at JCCC. One of the requirements for the department Capstone class required David to produce a collection for the school fashion show. The collection was also selected for Kansas City Fashion Week 2022 Spring/Summer runway show at Union Station.
David's collection explores ideas of identity through pleats, tucks, fabric manipulation, fabric weight, color, pattern, texture, and opacity. The inspiration for the collection came from his years of involvement with various employee resource groups at Hallmark and a years-long journey of self-exploration and discovering his thoughts and feelings around being othered. At its core, the collection is a celebration and recognition of the importance of community and belonging. It's about being Asian and Caucasian, Vietnamese and American, and being queer and worthy.
Through his involvement with the ERGs, he realized he had a right and a responsibility to be visible in all of his Gaysian glory. All of his queerness, all of his Asianness. It's taken David years to realize that his otherness was worthy of a seat at the table and that his designs were worthy of a spot on the runway.
Join us for this special event on Thursday, July 14, 2022. The collection will be displayed in a gallery exhibition, including many of David's design sketches and prototypes. David will also discuss his design process and the inspiration behind the collection and the individual garments.
Thursday, July 14, 2022
ArtsKC Gallery Space 106 Southwest Blvd, Kansas City, MO
Gallery opens at 5:30 pm | Presentation at 6:30 pm
Refreshments provided.

We wil be providing a ZOOM Link for those who would prefer to join virtually.

Registration for this event opens on Thursday, June 16, 2022
David is a Production Designer at Hallmark Cards and has been with the company for 22 years. He has held various positions at the Kansas City-based greeting card company, including Production Artist, Process Artist, and Multimedia Designer. David is involved with several Employee Resource Groups at Hallmark, including the Military Interest Group and Hallmark Employees Reaching Equality (LGBTQ+). He served on the Asian American ERG Steering Council for six years and was the 2015 and 2018 Chair of AARCH, Asian American Resource Community at Hallmark. Before Hallmark, he was Operations Manager for Vanguard Airlines Reservations Center and served in the U.S. Army during Desert Storm.

David currently serves as Director of Marketing for NAAAP Kansas City and was the Program Director for the 2019 Leadership Convention in Kansas City, MO. He also served on the Board of Directors for the Unicorn Theatre, whose mission is to illuminate social issues by shining a light on diversity and inclusive stories, which include race, religion, and gender identity. David is also a founding member and past National Director of NAAAP Pride, a national program for the Asian American LGBTQ+ community, and is co-host of the Pride Talk podcast.

David was born in Saigon, Vietnam, and has lived in various countries, including Spain and Germany. He loves to travel and is obsessed with live theatre. He recently returned to school to study his first passion, Fashion Design.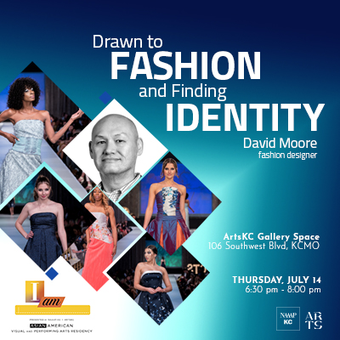 ArtsKC Gallery 106 Southwest Blvd, KCMO