First Friday at ArtsKC Gallery Space: Fashion, Music, and Dance
Fashion, Music, and Dance

Join us on Friday, July 1st for First Friday and opening night for the latest exhibition in our "I am..." residency at ArtsKC Gallery Space. David Moore, NAAAP-KC Board member and a founding member of NAAAP Pride, debuted his first fashion collection at Kansas City Fashion Week in April and we are so excited for the opportunity to see the collection up close and personal. The entire eight piece collection of custom evening wear will be on display along side prototypes, design sketches, and pattern pieces.

Special guest DJ Kay-Fan will be spinning some beats and you'll want to be there the see the breakdancing skills of Frank "Monk" Pham, Zen Nguyen, & Kevin Le.

Fashion, Music, Dance, what more do you need?
Support local Asian owned businesses. Vendors on site will be:
Cafe Cà Phê, Mooyuei Baker, and Sugarfold.
ArtsKc Gallery is the place be on First Fridays.

About the Exhibition:
The National Association of Asian American Professionals-Kansas City in partnership with ArtsKC presents an exclusive residency at the ArtsKC Gallery Space from May - September, 2022. This residency is a reclamation of identity and strength by allowing AAPIDA (Asian American Pacific Islander Desi American) artists and thought leaders to declare themselves with the statement of "I Am..."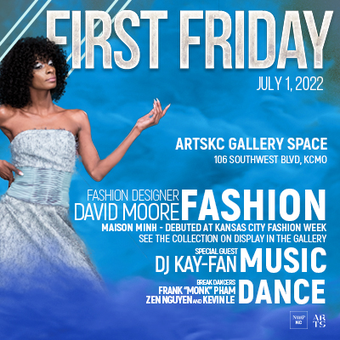 ArtsKC Gallery Space 106 Southwest Blvd, KCMO