Happy Hour Social at Iron District North Kansas City
Ticket Name
Sale Ends
Price
Quantity

Non-Member

25 May 2023

Free

Sale Ended

Member

25 May 2023

Free

Sale Ended
For our next Happy Hour Social, we are heading north to
the Iron District in North Kansas City, a unique outdoor dining
and retail destination created to support local startups and bring KC
together to eat, drink, shop, and connect.

Their colorful repurposed shipping containers and spacious outdoor food court
provide a complete, family-friendly entertainment experience.

Our Happy Hour Socials are a great way to meet new people and
make lifelong connections with NAAAP-KC members & friends.

You can check out their list of vendors here:
https://irondistrictnkc.com/

1st drink free for NAAAP Members

Limited shared appetizers will be provided.
Thursday, May 25, 2023
5:00 - 7:00 PM
Iron District in North Kansas City
1599 Iron St, North Kansas City, MO 64116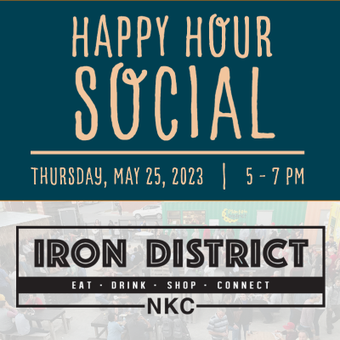 1599 Iron St, North Kansas City, MO 64116, USA