(External) Inclusive Leadership Training: The 5 Leadership Voices
Registration for this event has passed
Inclusive Leadership Training | The 5 Leadership Voices

Experience the power of the 5 Leadership Voices in this series of interactive workshops. You will gain confidence in your unique leadership voice, deepen relational trust, unlock your team's true potential, and accelerate its performance.


With these workshops, you'll:
Gain self-awareness and confidence as you discover your natural Leadership Voice

Identify how your culture influences how you show up at work

Learn to foster deeper relational trust

Gain skills to foster true inclusion for everyone on your team

Learn to calibrate support and challenge to optimize performance for yourself, direct reports, and anyone else you lead

Download the pdf flyer
Includes a template letter for requesting support to help
pay for your registration or reimbursement.


The Workshops
Leave each session with a clear set of actions for your personal transformation.

Session 1 -Tuesday, March 21, 5:00 pm - 6:30 pm CT
Discover Your Leadership Voice
Learn the 5 Voices, celebrate the value of each, and identify your natural Leadership Voice.

Session 2 - Tuesday, March 28, 5:00 pm - 6:30 pm CT
Triggers and Weapons
Learn the negative impact your Voice can have on others when not being intentional. Leave with specific action items to grow as an inclusive, liberating leader for others.

Session 3 - Tuesday, April 4, 5:00 pm - 6:30 pm CT
Know Yourself to Lead Yourself
Learn how to identify tendencies that influence your behavior and ultimately your reality. Work through a simple tool to lead yourself to the reality you desire.

Session 4 - Tuesday, April 11, 5:00 - 6:30 pm CT
Optimize Team Performance
Learn how to create team alignment and synergy by harnessing the contribution of all 5 Voices.
Meet Your Guides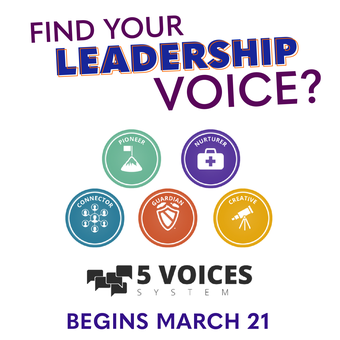 Virtual Event: 4 Weekly Workshops - March 21, March 28, April 4th, and April 11