NAAAP-KC at ArtsKC: June Happy Hour Social
NAAAP-KC at ArtsKC
Happy Hour Social

We'll gather at the Artskc Gallery Space in the Crossroads
(across from Up/Down) - our temporary "clubhouse" through September.

We'll provide some appetizers from Lulu'sThai Noodle Shop, plus wine & beer.

Come connect & mingle, plus view the "I am..." exhibition
featuring 16 local Asian American artists. This will also be the
last opportunity to view and purchase the art from this first round of
the "I am..." exhibition. A new show will be on display for the month of July.
Date: Thursday, June 23, 2022
Time: 5:30 -7:30 PM
Venue: ArtsKC Gallery Sapce
106 Southwest Blvd, Kansas City, MO
See you there!!!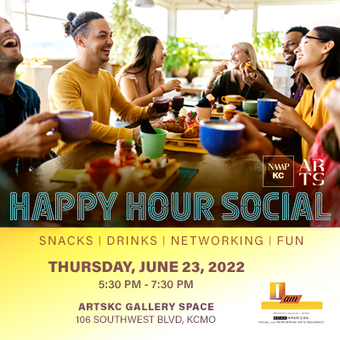 ArtsKC Gallery Space 106 Southwest Blvd. Kansas City, MO