NAAAP-KC at ArtsKC: July Happy Hour Social
NAAAP-KC at ArtsKC
Happy Hour Social

Thursday, May 26 our monthly in-person happy hour socials return!
We'll gather at the Artskc Gallery Space in the Crossroads
(across from Up/Down) - our temporary "clubhouse" through September.
More info to come.
Come connect & mingle, plus view the "I am" exhibition
featuring 16 local Asian American artists. See you there!
Date: Thursday, July 21, 2022
Time: 5:30 -7:30 PM
Venue: ArtsKC Gallery Sapce
106 Southwest Blvd, Kansas City, MO
See you there!!!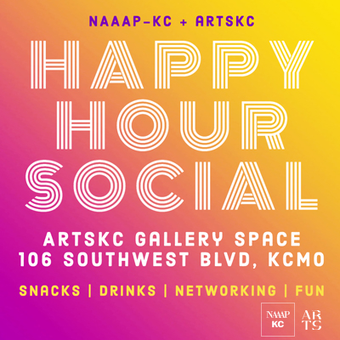 ArtsKC Gallery Space 106 Southwest Blvd. Kansas City, MO