NAAAP-KC Holiday Party 2023
NAAAP-KC HOLIDAY PARTY 2023

Bamboo Penny's in Leawood
5270 W 116th Pl, Leawood, KS 66211
7 PM - 9 PM

Join NAAAP-KC for our 2023 Holiday Party at Bamboo Penny's in Leawood on December 6, 2023, from 7-9 pm. Enjoy food, drink, friends, and a festive atmosphere in the Bamboo Room, a Polynesian-inspired, rooftop space serving up beautifully handcrafted cocktails and exclusive small bites. The event location is accessible via private elevator service and features a retractable rooftop. Co-owner and chef Penny Mufuka was honored with 2023 Entrepreneur of the Year by the Asian Chamber of Commerce of Kansas City. Your ticket purchase includes a variety of pre-selected menu items, served banquet style. Wear festive attire if you wish.

Non-members $25
Registration opens Nov 18.

Members $20
(Includes 1 free drink ticket)
Registration opens Nov 16.
Purchase tickets early.
Limited Seating. Sure to Sell Out!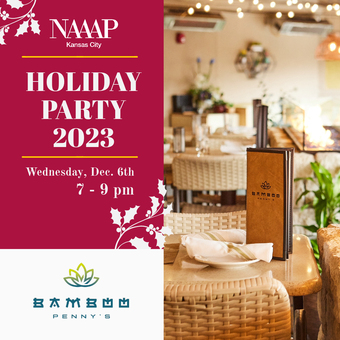 5270 W 116th Pl, Leawood, KS 66211, USA