Sparkle Party (Postponed due to weather)
RSVP for the Reschedule Sparkle Party
URGENT: Sparkle Party Postponed (click button above to register for the new Sparkle Party on 1/30/2019)
Due to the uncertainty of the weather tonight and our concern for everyone's safety we will be postponing our Sparkle Party this evening. Although we are very excited to share the news with you about the Leadership Convention coming to Kansas City, safety must come first.
We are considering dates in the next two weeks and will be in touch shortly about the new date and time. Thank you so much for your support and interest in NAAAP and the Leadership Convention.
------------------------
You are invited to join the Kansas City Chapter of National Association of Asian American Professionals for drinks & appetizers and a preview of our national Leadership Convention coming to Kansas City in August of 2019! The Leadership Convention is expected to draw 700-1,000 attendees. Together, we can make this an epic event that will highlight our vibrant city, the great companies that call this city home, and the amazing diversity in our people.
Drinks & Appetizers

Convention sponsorship opportunities

Gala sponsorship opportunities

Meet NAAAP-KC & NAAAP National Board Members
EVENT INFO

When: January 22, 2019 | 5:30 - 7:30pm
Where: Two Light Luxury Apartments - 1444 Grand Blvd, Kansas City, MO 64106
Please ask the front desk for assistance once you arrive. The event will be on the 8th floor.
Parking Options:
1. KC Live! Block Garage (13th St between Walnut and Grand)
2. The 5th floor in the Cosentino's Garage (Walnut or Main St).
3. Limited street parking is also available.
Parking Fees:
1. Guest parking is free within 3 hours.
2. $3 for 3-16 hours.
3. $25 per day.
Please bring parking tickets to be validated at the front desk.
No validation in Two Light Luxury Apartments parking.
Feel free to reach out at (913) 636-4360 if you have any questions.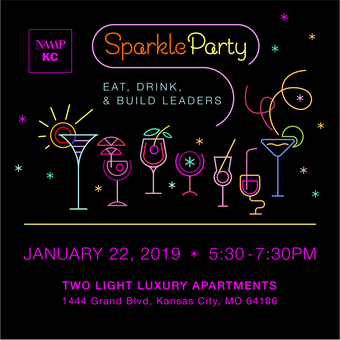 1444 Grand Blvd, Kansas City, MO 64106, USA