Sparkle Party
You are invited to join the Kansas City Chapter of National Association of Asian Americans for drinks & appetizers and a preview of our national Leadership Convention coming to Kansas City in August of 2019!
Drinks & Appetizers

Convention sponsorship opportunities

Gala sponsorship opportunities

Meet NAAAP-KC & NAAAP National Board Members
EVENT INFO

When: January 22, 2019 | 5:30 - 7:30pm
Where: Two Light Luxury Apartments - 1444 Grand Blvd, Kansas City, MO 64106
Please ask the front desk for assistance once you arrive. The event will be on the 8th floor.
Parking Options:
1. KC Live! Block Garage (13th St between Walnut and Grand)
2. The 5th floor in the Cosentino's Garage (Walnut or Main St).
3. Limited street parking is also available.
Parking Fees:
1. Guest parking is free within 3 hours.
2. $3 for 3-16 hours.
3. $25 per day.
Please bring parking tickets to be validated at the front desk.
No validation in Two Light Luxury Apartments parking.
Feel free to reach out at (913) 636-4360 if you have any questions.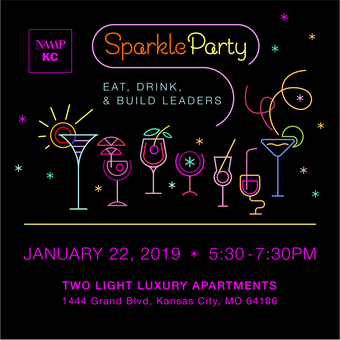 1444 Grand Blvd, Kansas City, MO 64106, USA