WIN Speaker Series: Subashini Nadarajah - Part 2
About Subashini

Subashini "Suba" Nadarajah is the Executive Global Director of Diversity, Equity and Inclusion at VMLY&R. Since moving into this role, she has worked tirelessly to ensure that all employees feel welcome, safe, and heard by building cross-cultural communication and reducing prejudice and inequality based on culture. From instituting new programs, to fostering partnerships, to taking full advantage of talent pools and pathways, Subashini has made it her mission to promote diversity at VMLY&R and increase cultural literacy, awareness, and acceptance within the agency and across agency partnerships.

Prior to this role, Subashini—an artist by nature and by trade with a Master's in Commercial Design—served as VMLY&R's Director of Design. She worked with client teams to provide design and branding counsel and, throughout the course of her tenure, transformed the design department into one of VMLY&R's most prominent and celebrated units.

Additionally, Subashini previously served as the Creative Director for the retail visual merchandising team at Hallmark and held roles across print, advertising, and television at River City Studio, Bernstein-Rein, and Blacktop Creative. Through these roles, she worked closely with household brand names, such as Walmart, McDonald's, Sprint, Bayer Beauty, Kansas City Zoo, Kansas City Power and Light District, Disney, and Godfather's Pizza. For her exemplary work, she has been recognized by and earned awards from The One Show, the Art Directors Club, and the ADDY Awards.

Although some described her move from design to DE&I as a major career change, Subashini is not new to her current sector. As a designer whose work has always reflected a human-centric philosophy, this undertaking was not a pivot, but an extension of the work that she had already been doing. Her 30 years of design experience—of understanding the human heart through art—was a prerequisite for the work she does today. As the Global Executive Director of DE&I, Subashini works in a formal capacity to challenge the status quo, cultivate equitable environments, and champion members of underrepresented groups daily.

Subashini believes that art and design are storytelling vehicles that bring people together and instill in our world a sense of connectivity—she hopes to spread this belief through education. She is an active member at the American Institute of Graphic Arts, and, on a local level, she has been an adjunct professor at the Kansas City Art Institute and University of Missouri, where she taught branding, guerilla marketing, and design systems.

When not at VMLY&R or teaching, Subashini is a closet architect. She designed her own home, where she resides with her 9-year-old rescue blue merle sheltie—her kitchen was even featured in an online Dwell article titled "Room We Love." She is a trilingual world traveler, photographer, avid walker, aspiring equestrian, and Pilates lover who finds balance in life through meditation and mindful living. In fact, guiding meditation and sharing how to live a mindful life has become one of Subashini's many life aspirations. In a recent KC TED Talk, she discussed how powerful our breath can be when we are mindful of its virtues and powers.
Ticket Name
Sale Ends
Price
Quantity

Non-Member

06 Jul 2022

$10.00

Sale Ended

Member

06 Jul 2022

Free

Sale Ended
The WOMEN IN NAAAP-KC will be meeting in person for the first time this year at the Residency located at:
ARTSKC Gallery
106 Southwest BLVD
KC, Missouri 64108
We will also be providing a ZOOM Link for those who would prefer.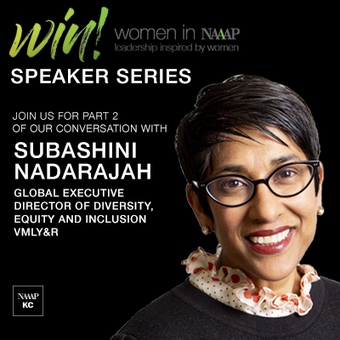 NAAAPKC residencey at ARTSKC: 106 Southwest Blvd, KCMO, 64108