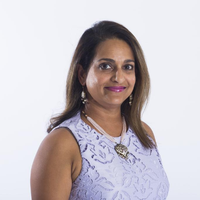 Aviva Ajmera
Co-founder and CEO, SoLVE LLC
Article Source: Kansas City Business Journal
Responsibilities: Ajmera co-founded SoLVE LLC in 2013 with friend and fellow entrepreneur Teddi Hernandez. Her primary areas of expertise include strategic planning, product development and organizational design.
Education: For generations, education has been a priority in Ajmera's family. Her great-grandfather founded a university in India that provided college education for underserved students. With this foundation, Ajmera has trusted and valued her education and advises other women to pursue the best education possible.
"Growing up, I was always told, 'An education is one thing no one can ever take away from you,'" Ajmera said.
Turning point: "After working in corporate America for 15 years and two different international consulting firms, deciding to start my own consulting firm in Kansas City to help Kansas City-based companies grow."
Supporting women: For the past 15 years, Ajmera has actively guided and mentored women in navigating corporate culture and obtaining professional opportunities.
She is also the chair of Women's Capital Connection, an all-women angel investing group that invests in women-led companies throughout the region.
"I make a personal commitment to support companies we invest in. I share my professional knowledge and actively build awareness for their businesses."
Greatest challenge: Ajmera's parents were the first in their families to immigrate to the United States, and she was the first of her generation to be born and raised here.
Ajmera found it challenging to grow up in this country where "anything is possible," while also being raised in a culture where women have clearly defined roles.
"I constantly struggled with my parents to support my goals versus their traditional views of how a 'good Indian girl' should live her life. I overcame this by believing in myself and achieving my goals."
Inspiration: Ajmera's husband and daughter are her greatest inspiration.
"My husband has always believed in me, encouraged me to reach as high as possible and face my fears. My daughter is my ongoing inspiration to be my very best self and balance work, family and our Indian traditions."
— Anne Marie Hunter
https://www.bizjournals.com/kansascity/women-who-mean-business/
---