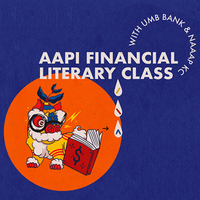 On Nov 19, 2022, Cafe Cà Phê and NAAAP-KC collaborated with UMB Bank to host a Financial Literacy Class at the Garrison Community Center in the historic Columbus Park neighborhood. Presented by UMB's Consumer Banking community development team, this event provided the KC community with tools to achieve financial success in the context of cultural differences to offer a deeper understanding of personal finances.
Hoang-Anh Tran, Senior Advisor to the NAAAP-KC Board, provided information and statistics surrounding Asian/Asian American/Pacific Islander/Desi American cultures and finances following an opening from the owner of Cafe Cà Phê and community activist Jackie Nguyen. UMB Community Development Banker LaTasha Jacobs presented an overview of personal finances, which included budgeting and a basic understanding of credit scores and numbers. This interactive session provided participants with critical strategies for building credit, creating an emergency fund, and avoiding debt.

Overall, the 25+ attendees left this event feeling more empowered financially than when they arrived. They gained a better understanding of financial literacy and empowerment through the workshop discussions.
The Financial Literacy Class hosted by Cafe Cà Phê, NAAAP-KC, and UMB Bank was incredibly successful due to UMB's invaluable information, clear presentation, and generous sponsorship of free coffee and mochi donuts for all who attended! A follow-up course is being discussed with Cafe Cà Phê to offer a Cyber Security Awareness session coordinated by Hoang-Anh Tran.

---