Asian Pacific American Heritage Month 2023

NAAAP National Events
---
Local Events
---
Local Community Profiles
May is a time to celebrate the diverse and rich histories, cultures, and achievements of Americans of Asian and Pacific Islander descent during Asian Pacific American Heritage Month. Spanning more than 50 countries and ethnic groups, with over 100 languages and dialects spoken, Asian-Pacific Americans have significantly contributed to every sphere of American society, including arts, technology, sports, and education.
This month also serves as a solemn reminder of the many struggles and injustices faced by Asian-Pacific American communities, historically and in the present. As we commemorate the arrival of the first Japanese immigrants to the United States on May 7, 1843, and the completion of the transcontinental railroad on May 10, 1869, primarily built by Chinese laborers who faced discrimination and adversity, we acknowledge the long and complex history of immigration, settlement, adaptation, and resistance of Asian Pacific Americans.
Asian Pacific American Heritage Month provides an opportunity to honor the legacy of these pioneers and their descendants and celebrate the diversity and vitality of the current Asian Pacific American population. With more than 24 million Asian Americans and nearly 1.6 million Native Hawaiians and Pacific Islanders living in the United States, they represent many experiences, backgrounds, and perspectives that enrich our nation's cultural mosaic.
Despite their contributions, Asian Pacific Americans have also faced racism, xenophobia, violence, and exclusion throughout history, including discriminatory policies like the Chinese Exclusion Act of 1882 and the internment of Japanese Americans during World War II. Asian Pacific Americans have been marginalized and stereotyped and have even experienced incidents like the murder of Vincent Chin in 1982 and hate crimes and harassment during the COVID-19 pandemic.
Much like Black History Month, Asian Pacific American Heritage Month provides an opportunity to raise awareness and advocate for the inclusion and equitable treatment of these communities. It is essential to educate others about their unique experiences, challenge misconceptions, amplify their voices and stories, advocate for their rights, and build solidarity and allyship with other marginalized groups.
As we celebrate Asian Pacific American Heritage Month, we must recognize the importance of heritage and culture for these communities. They are sources of identity, pride, resilience, empowerment, and ways of honoring the past, celebrating the present, and envisioning the future. Heritage and culture serve as bridges that connect us with ourselves, each other, and the world.
---
NAAAP NATIONAL EVENTS
For the month of May, NAAAP is highlighting our leaders, members and sponsors from across all our chapters and asking them why APIHM is important to them and what does it look like to show up to support the Asian community.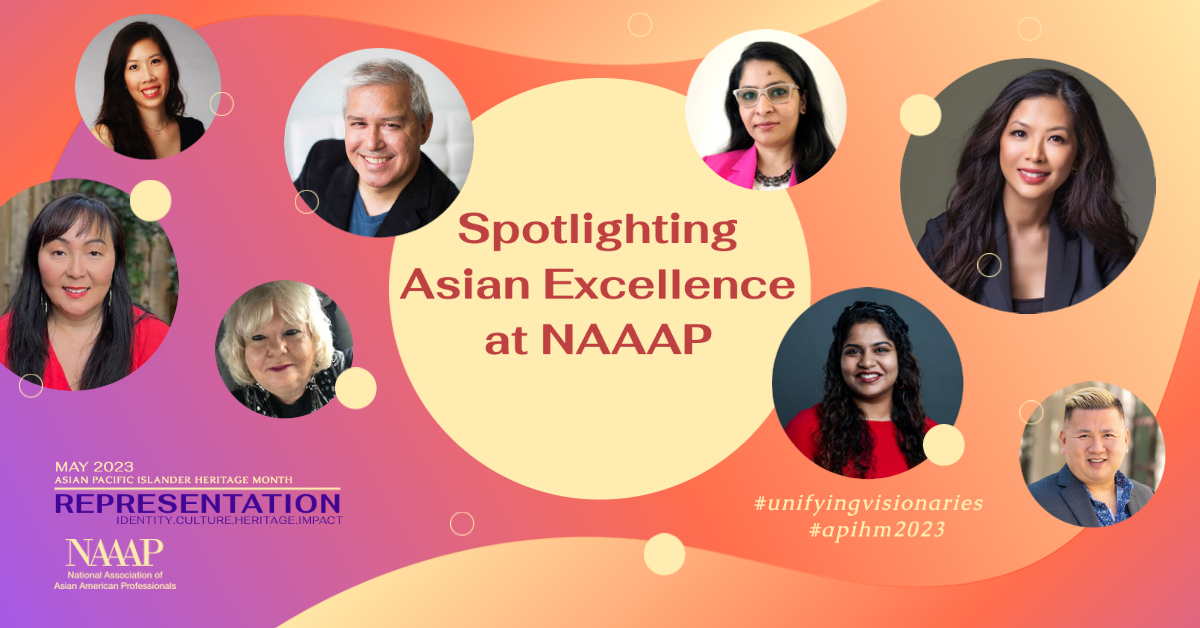 Please join NAAAP National on Linkedin and Instagram as we celebrate our community!
 
---
Wednesday, May 10    1pm ET / 10am PT

The National Association of Asian American Professionals (NAAAP) and Slant'd are proud to present a virtual webinar titled "Creative Activism: How Storytelling Helps Asian Pacific Islander Communities Feel Seen and Heard" in celebration of Asian Pacific Islander Heritage Month.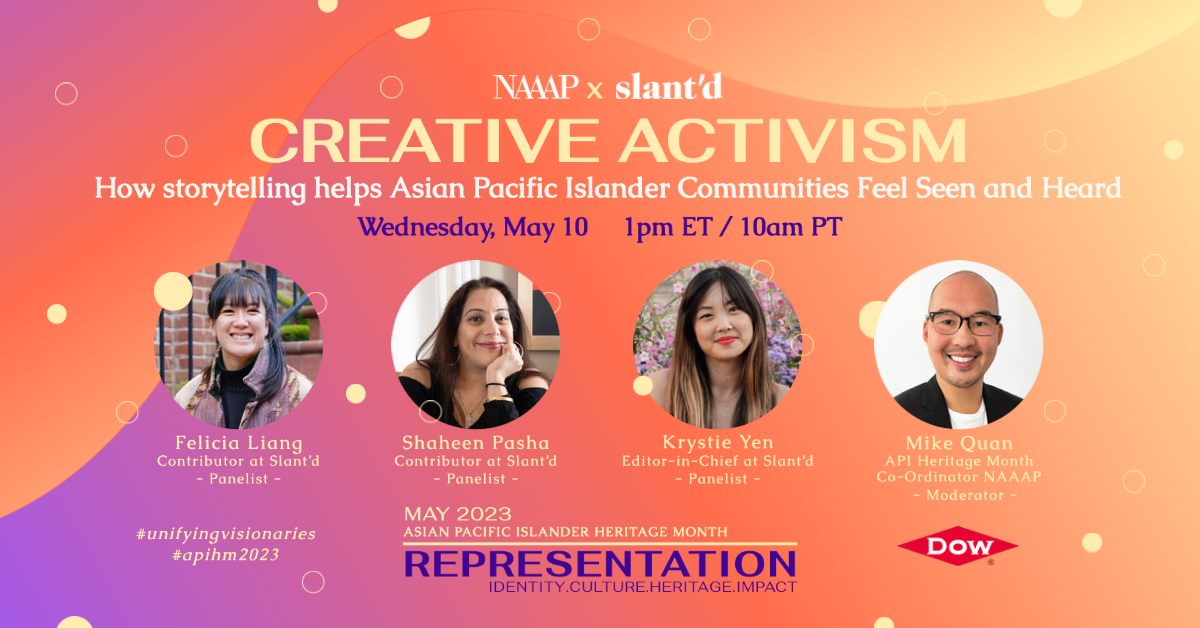 Slant'd is a collective of Asian Americans celebrating the journey of self-discovery.
Their mission is to cultivate the community that Asian Americans want, need, and deserve.
Built from the ground up by and for Asian Americans, Slant'd is grounded in diversity,
fueled by human connection, and ignited by boundless creativity.
Their strength is in the stories they amplify:
deeply vulnerable stories that spark introspection and expand
our perspectives about race, identity, and the Asian American experience.
 
The first 50 people to sign up for this event will receive
a complimentary digital copy of Slant'd Magazine via email.
 
MORE INFO & EVENT REGISTRATION
---
Erasure to Visibility: Impact of Queer Asian
Representation on Mental Health
Wednesday, May 31    4pm ET / 3pm CT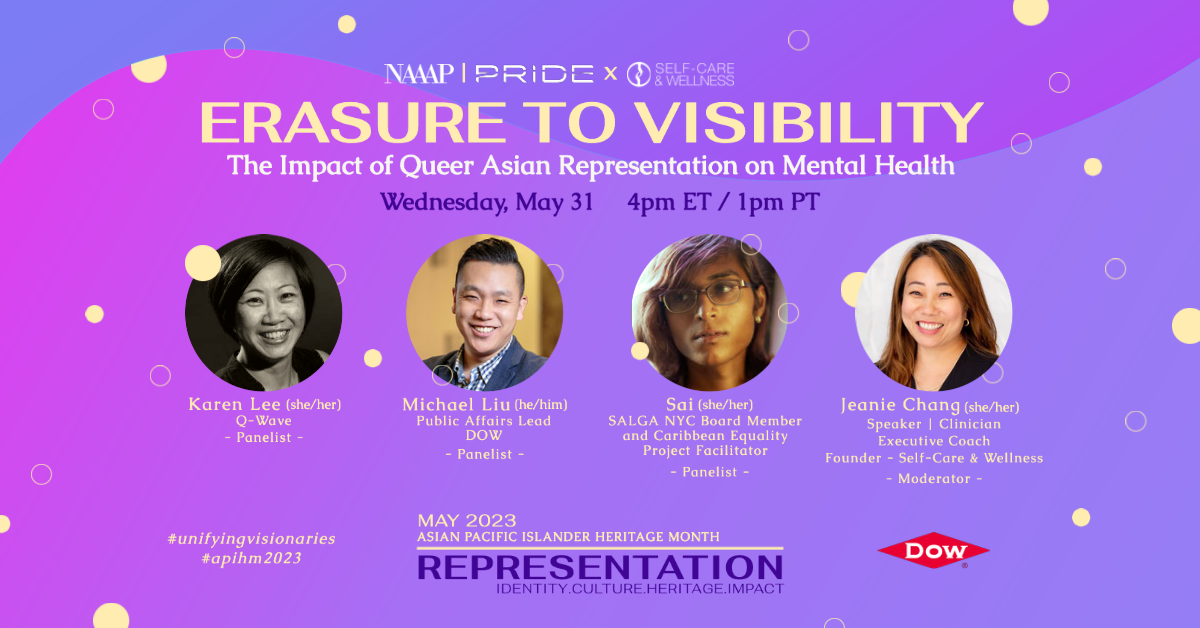 NAAAP Pride and Self-Care & Wellness at NAAAP are proud to present a virtual webinar titled "From Erasure to Visibility: The Impact of Queer Asian Representation on Mental Health" to close out the celebrations of Asian Pacific Islander Heritage Month, launch the beginning of Pride Season/Month as well as to acknowledge Mental Health Awareness Month.
 
Since 1982, NAAAP has been convening emerging leaders and amplifying the Asian American voice and experience. NAAAP has inspired leaders, organizations and our communities across USA, Canada and China through our impactful initiatives on a yearly basis. Within all of our events, NAAAP ensures that we are authentically representing Asian culture and heritage on our platform. 
Representing our culture and heritage authentically is about being honest and sharing transparent stories and experiences that allow individuals to understand the nuances in Asian culture.
This month we are proud to highlight and celebrate programming that represents the large diversity of the Asian diaspora with our NAAAP events for Asian Pacific Islander Heritage Month.
 
MORE INFO ABOUT OTHER NAAAP COMMUNITIES - NAAAP NATIONAL APIHM SITE
 
---
LOCAL KC EVENTS
AAPICONIC: 2023 Kansas City AAPI Festival, Presented by Fresh Karma


Saturday, May 20 · 10am - 4pm CDT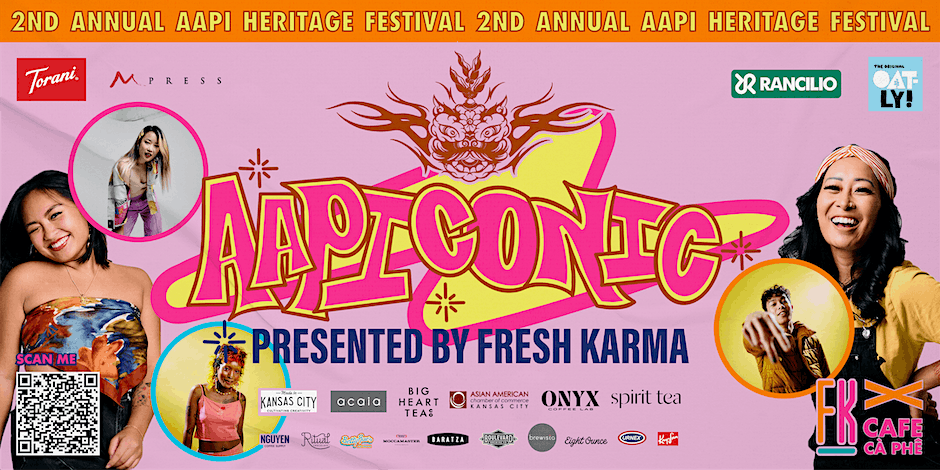 Join Cafe Cà Phê, Kansas City's first Vietnamese coffee shop, at Columbus Square Park on May 20 for the second annual Kansas City AAPI Festival, presented by Fresh Karma Dispensaries. Additional sponsors include Rancilio Group, Torani, Oatly, Boulevard Brewing, Made in KC, and many more.
The theme is ICONIC: A Throwback To 1999 – a time where music, fashion, and pop-culture were at their finest. Truly iconic. The aesthetic is "1990s Magazine Cover," so dig out your favorite tube tops and acid-wash jeans and join for a day of live entertainment, booths by local makers and artisans, and nostalgic vignettes designed specifically for photo ops. All are welcome to attend, and AAPI attendees specifically are invited to wear traditional garments from their culture to show off AAPI pride during a mini-runway fashion show. In celebration of Asian American and Pacific Islander (AAPI) Heritage Month, every performer and vendor will themselves be AAPI.
Featured performers for the event include DJ Kay Fan, Three Trails Taiko, traditional Balinese dancer Wenny Grant, and many more. Local business Umeshiso will be selling their renowned "gay" utensils, along with over 20 other AAPI-owned small businesses. If you've been missing blowup furniture with brightly-colored pop art backgrounds, look no further, because this festival will be flush with it.
Cafe Cà Phê in August celebrated the highly-anticipated opening of its brick and mortar location in Kansas City's historic Columbus Park neighborhood. One of the first design elements patrons notice as they walk through pristine glass doors is a colorful mural celebrating small businesses. Central to its mission, Cafe Cà Phê has celebrated a different small business almost weekly since opening day through popup events and social media promotion. The 2023 AAPI Festival will be a shining emblem of this mission, and a love letter to Kansas City's AAPI Community.
Happy Hour Social at Iron District North Kansas City


Saturday, May 20 · 10am - 4pm CDT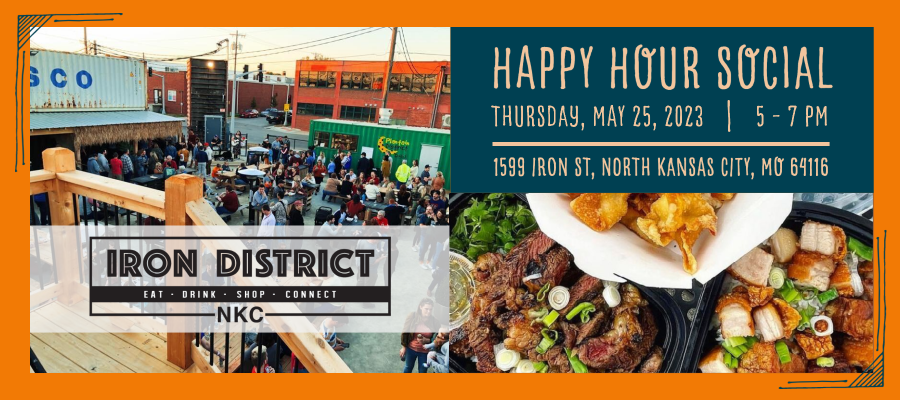 For our next Happy Hour Social, we are heading north to
the Iron District in North Kansas City, a unique outdoor dining
and retail destination created to support local startups and bring KC
together to eat, drink, shop, and connect.

Their colorful repurposed shipping containers and spacious outdoor food court
provide a complete, family-friendly entertainment experience. 

Our Happy Hour Socials are a great way to meet new people and
make lifelong connections with NAAAP-KC members & friends. 
Mary Buche

AAPI Month 2023 - Community Profile

How long have you been involved with NAAAP-KC? 
I became involved as a member in early 2021. Soon after I had the company I worked for sign up for a sponsorship. I became the VP of Strategy a year later in 2022, and  became a board member after completing the 5 Voices Leadership Program.  
What is your professional occupation? 
I oversee the fair banking program and the Community Reinvestment Act program at a local community bank.
Please share a few details about your heritage. 
I was born in Seoul, South Korea to a military American father and a Korean mother.  My mom's entire family including my grandmother immigrated from South Korea. 
Tell us about someone who has been an inspiration to you and/or enriched AAPI culture.
 My Korean grandmother Halmoni grew up very poor with 9 children. She came to the U.S. as a widow in her fifties and lived independently until she passed at 100 years-old. 

She barely spoke English. She didn't drive but she worked a manufacturing job until she retired. When I saw her face racism, she showed so much grace. She kept the Korean culture and proudly wore her Korean Hanboks.  I wanted to honor her memory by embracing Korean culture. 
Why is it important to recognize and celebrate AAPI heritage?
I feel everyone should embrace and be proud of their heritage. I do feel when there are diversity efforts, many times Asian Americans are left out of representation. So only when we recognize Asian American history, including accomplishments and contributions and struggles, together as a community we will be stronger. 
 
---
Steve Chu

AAPI Month 2023 - Community Profile

What is your professional occupation? 
I currently work at Microsoft in a sales and marketing capacity serving our enterprise customers in the healthcare and life sciences, state and local government, and education sectors.
Please share a few details about your heritage. 
 I am 49% Asian (mostly Chinese) and 51% European (mostly German). I was born in Kansas City but lived in Alaska for most of my youth. Interestingly, my Asian heritage has some traces of European ancestry.
Tell us about someone who has been an inspiration to you and/or enriched AAPI culture.
 My father Michael Chung-Yui Chu was one of the first Chinese students in the Kansas City area in the 1960s. President Truman welcomed my father along with a woman from India to the Truman Library office to demonstrate his openness toward Asian people.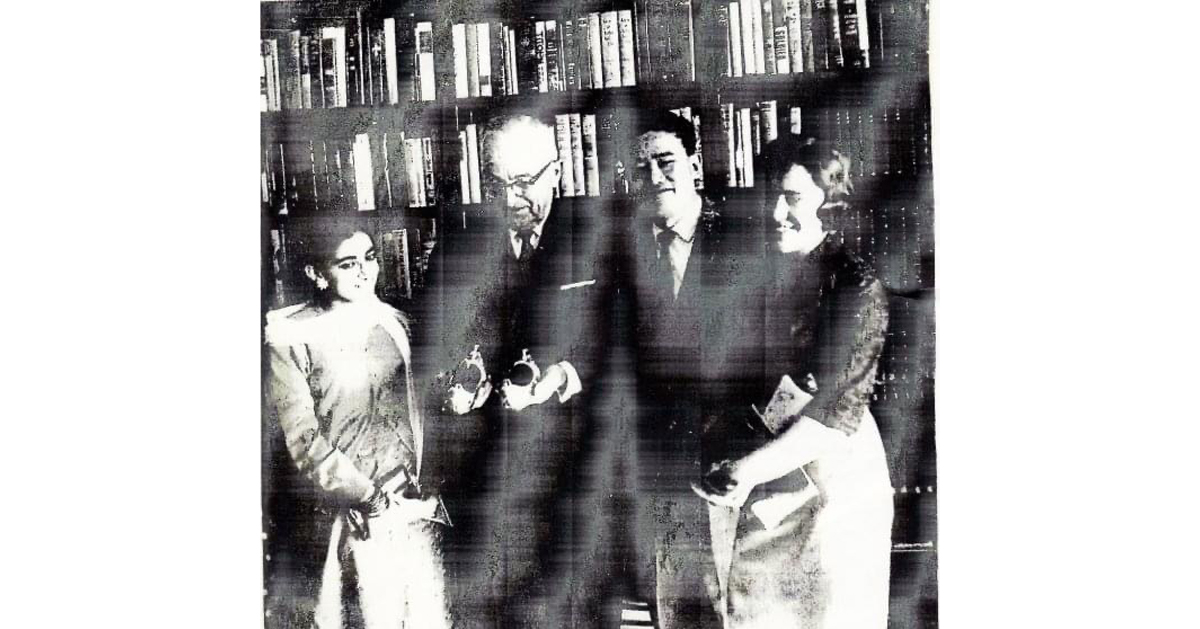 Why is it important to recognize and celebrate AAPI heritage?
 Despite the mistrust many Americans have toward Asians, Asian Americans deserve to be treated with honor and respect. In our country's short history, Asian Americans have been ostracized and murdered because ignorant people have a certain narrative about them.
 
---
Sarah Kerr

AAPI Month 2023 - Community Profile

How long have you been involved with NAAAP-KC? 
I joined around 2020 when I managed the AANHPI program at work. I was looking for local organizations to find potential speakers for events, discovered NAAAP-KC, and reached out. The members were more than willing to share their stories and speak. I was so impressed by the group that I had to become a member! 
What is your professional occupation? 
 I do administrative work with the Veterans Administration. I used to be a pharmacist but took a detour to chase opportunities that appeal to me more now in life.
Previously, I worked as a Facility Program Manager of Investigational Pharmacy and a Special Emphasis Program Manager for Diversity and Inclusion at the Kansas City VA Medical Center. I've also worked in rural parts of Oklahoma as a Walmart pharmacist, at the Claremore Indian Hospital as the overnight pharmacist with the Indian Health Service, and as a pharmacy supervisor at the Kansas City Veterans Administration.
Please share a few details about your heritage. 
 My parents and older brother were born in South Korea and moved to Minnesota where I was born. Most of my exposure to South Korean culture was at home and through my parents' church community. To be honest, I never fit in. I went to suburban public schools and then a pretty diverse private school. I didn't start appreciating my ethnicity until after college. 
Tell us about someone who has been an inspiration to you and/or enriched AAPI culture.
 You know the memes of the Asian man [Jonny Kim] who is a Navy SEAL, physician, and NASA astronaut? He's a real-life example of a positive Asian stereotype.
Why is it important to recognize and celebrate AAPI heritage?
 I enjoy seeing the observances not only for AAPI heritage, but also for all of the identities that make up humankind. Each year, the programming and events seem to get stronger.
 
---

 Representative Emily Weber, District 24, represents Jackson County (District 24) in the Missouri House of Representatives. She was elected to her first two-year term in November 2020.
She attended Butler Community College and the Kansas City Art Institute. After graduation from KCAI, Weber made Kansas City her home. In addition to her legislative duties, Weber built a career in communications and marketing, and she is a graphic designer. 

Please share a few details about your heritage. 
 I was born in South Korea, and adopted when I was three months-old and then raised in rural Kansas. On March 2, 1984, I became a naturalized U.S. citizen. I often speak about how my heritage looks a little different. I used to not feel American enough and not Asian enough but as I've gotten older I realized that I am enough.  

Tell us about someone who has been an inspiration to you and/or enriched AAPI culture.
Growing up I did not see a lot of people that looked like me. I remember Kristi Yamaguchi [U.S. Olympic champion figure skater], Michelle Kwan [U.S. Olympic champion figure skater], Connie Chung [journalist, news anchor], and Margaret Cho [comedian, actress] on television. As I've gotten older we have seen more rallies, protests, and AAPI hate. Because of this, we are seeing more of the AAPI community coming out and being heard. They are sharing their stories and standing up for one another. They are the inspiration. 
Why is it important to recognize and celebrate AAPI heritage?
Here in Missouri, we have had so many battles on diversity, equity, and inclusion. During any heritage month, we need to learn the importance of other people's cultures and heritage, we all should go participate and be educated. 
Nicole Dolan

AAPI Month 2023 - Community Profile

How long have you been involved with NAAAP-KC? 
I learned about NAAAP-KC during the summer of 2021 when I was just starting out in my journalism career. This year will be the first year that I am actively involved with the organization, thanks to Mary Buche!

What is your professional occupation? 
I am the marketing coordinator for the Kansas City Ballet.

Please share a few details about your heritage. 
My mom immigrated to the States from Jakarta, Indonesia, in 1999. We have both Chinese and Indonesian heritage in our family history. I've always been passionate and honored to have Asian heritage in my blood and love to celebrate my culture. There's a vibrant Indonesian community in the KC metro area, but sometimes it can feel lonely to be the only Southeast Asian person in a room. Regardless if I'm one of a handful or the only one, I'm proud to be Asian and am happy that I've always felt that way.  
Is there someone you can name who has been an inspiration to you and/or enriched AAPI culture.
Honestly, it pains me to say not really. I think that the women in my family have done a lot to enrich AAPI culture in my life. In terms of celebrities that I enjoy seeing succeed and embrace their heritage: Ali Wong is funny without making a joke of her culture, Constance Wu is wonderful, and everything that the Wong Fu Productions team (Philip Wang/Wesley Chan/Ted Fu) has done for AAPI visibility in independent film throughout 2000-2010s meant a lot to me growing up. Since there was such a lack of AAPI representation in television, I would identify with the actors who looked somewhat similar to me like Victoria Justice who is half-Puerto Rican. It's cool to see how that visibility has changed so much now. 
Why is it important to recognize and celebrate AAPI heritage?
It's beautiful to belong to something greater than yourself. I think I realized the importance of togetherness by watching my mom and my tantas embrace their new lives in America, millions of miles away from home. They tried every day to make the most out of this Asian in America and Asian American experience despite so much unnecessary hardship that comes with it. I know I will only understand a fraction of what that move meant to them. In turn, I've always felt an obligation/unspoken agreement to embrace who we are and where we came from in honor of their sacrifice and the sacrifice of our ancestors. 
My mom never taught me how to speak Indonesian, but she did teach me how to eat and how to show how deeply you love the ones around you with a bowl of cut mangoes. I think first-generation kids have a choice early on whether they embrace their culture or dismiss it. That sets the stage for how they not only view themselves but the community in general. I think traveling back to Asia is a game-changer, too. If you're not exposed to your culture in its true form, you never really understand.  
Sometimes you can find yourself as the only Asian person in a room — and that can feel daunting, or like you're all of a sudden expected to be the spokesperson for our community. I have certainly felt that but I rest in the fact that our community will not be let down if I choose to walk away from that expectation projected onto me by my colleagues. The best thing any BIPOC can do for their community is to set boundaries and protect our peace.